Contact A1 Insurance Coverage for all your
Personal and Business Insurance needs in Gastonia, NC!
Gastonia, NC Insurance
We are family owned and operated serving Gastonia NC. We take great pride in the relationships we have built with our customers, our insurance family. Our loyalty is always to our customers first!
A1 Insurance Coverage
1108 D Union Road
Gastonia, NC 28054
Phone: (704) 866-7550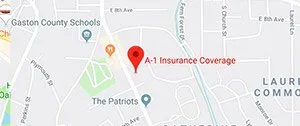 Contact A1 Insurance for Comprehensive Personal and Business Insurance Solutions in Gastonia, NC
As a family-owned and operated insurance company in Gastonia, NC, A1 Insurance is dedicated to serving the needs of our valued customers. We have established strong relationships with our clients, whom we consider a part of our insurance family. Our commitment is always to prioritize the well-being and satisfaction of our customers.
Your Trusted Partner for Personal and Business Insurance in Gastonia, NC
Whether you are seeking personal insurance coverage or require insurance solutions for your business, A1 Insurance has you covered. We understand that every individual and business has unique insurance needs, which is why we offer a comprehensive range of personal and commercial insurance options tailored to your specific requirements. With our expertise and personalized service, we strive to provide you with the peace of mind and protection you deserve.
Tailored Insurance Solutions and Unparalleled Customer Service
As the leading personal and commercial insurance company in Gastonia, NC, we take pride in our ability to offer reliable coverage and exceptional customer service. When you choose A1 Insurance, you can trust that we will go above and beyond to ensure your insurance needs are met effectively and efficiently. Contact us today to discuss your personal or business insurance requirements and experience the dedicated service that sets us apart from the rest.